Sono nato nel 1972, a Castellamonte, comune a 50 chilometri da Torino. All'età di 15 anni mi avvicino al magico mondo della fotografia. Col passare del tempo unisco la passione per la fotografia all'amore per la natura ed i paesaggi incontaminati che l'ambiente in cui vivo offre.
I was born in 1972, in Castellamonte, Italy, a little town 50 kilometers from Tourin. At the age of 15, I approached the magical world of photography. As time passed, I merged my passion for photography with my love for nature and wild landscapes, that the environment in which I live gives.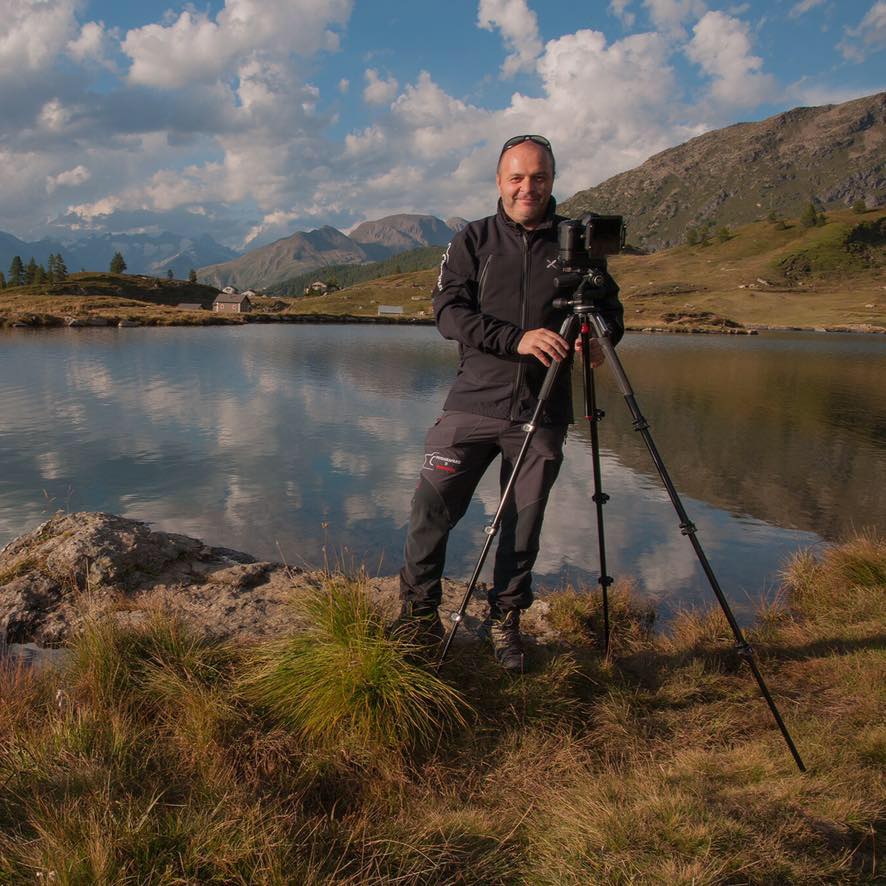 Le mie esperienze fotografiche iniziano con una modesta reflex totalmente manuale, sviluppando e stampando autonomamente le immagini in bianco e nero. Nello stesso tempo, comincio a dedicarmi alla fotografia a colori, impiegando, in prevalenza, materiale invertibile Kodak e Fuji. Con il passare degli anni e i mutamenti della tecnologia, passo ad utilizzare attrezzature Canon, diventando membro CPS
My first photography experiences were all with simple manual reflex camera. I developed and printed black-and-white pictures on my own. Meanwhile, I started to devote myself to color photography, mostly using Kodac and Fuji reversible products. Over the years, technology has changed and I moved on to Canon equipment, becoming a CPS Member.
Dopo gli studi tecnici ed un'esperienza lavorativa ventennale nel settore dell'edilizia, decido di cambiare radicalmente vita, optando per una dimensione più semplice, ma, senza dubbio, più umana.
After completing my technical studies and twenty years of working in the construction industry, I decided to radically change my life and to opt for a simpler yet undeniably more human lifestyle.
La fotografia naturalistica a 360 gradi e la fotografia di viaggio diventano parte predominante della mia attività professionale.
Nature and travel photography have become the predominant part of my job.
In particolare, nell'ultimo periodo, mi sto dedicando alla fauna ed all'ambiente della Regione Piemonte, pur non trascurando i grandi predatori europei e gli spettacolari paesaggi che il vecchio continente ci regala.
Particularly, I have been lately devoting myself to the wildlife and the environment of the Piemonte region. However, I did not disregard the European great predators and the stunning landscapes that the old continent gives us.
Nelle mie immagini della fauna selvatica, l'obiettivo primario è quello di catturare lo spirito dell'animale, cercando, contestualmente, di trasmettere le sensazioni che provo al momento dello scatto.
In my wildlife images my primary objective is to seize the spirit of animals and, at the same time, to convey what I am feeling when I am taking a shot.
Durante le sessioni fotografiche, dedico particolare cura ed attenzione alle condizioni di luce e di ripresa. Studio la scena e la situazione in modo metodico e dettagliato, cercando di dare risalto ed importanza alla composizione fotografica.
During my photo shoots I take the utmost care and consideration for light and shooting conditions. I meticulously and exhaustively analyze the set and the circumstances, trying to emphasizing the picture framing.
Per scelta personale, limito al massimo il processo di postproduzione.
It is my personal choice to limit the post-production process as much as possible.
Amo, infatti, trascorrere maggiormente le ore dietro alla macchina fotografica che non davanti ad un computer.
Certainly, I like to spend more time behind my camera and less in front of my computer.
La mia formazione, derivando dal materiale analogico, ha certamente influenzato e determinato il (mio) modo di lavorare e di approcciarmi alla fotografia digitale.
My analog photography educational background undoubtedly influenced and determined the way I work and I approach to digital photography.